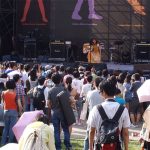 Rock concerts are classic Americana. There is something to be said for bringing together people and music for once-in-a-lifetime events. Sometimes, however, they can take a turn for the worse.
Back in 2009, for example, during the Big Valley Jamboree in Canada, the area was being battered with heavy winds. Not long after the stage was setup, a huge gust of wind blew the whole thing to the ground. More than 60 music-lovers were injured, and one even died. But some of the unexpected at rock concerts are manmade.
Columbus, Ohio hosted "Dimebag" Darryl in December of 2004. The co-founder of well-known band, Pantera, was playing with his new band that night. Out of nowhere, a member of the audience jumped onstage and fatally shot the performer three times in the head. But that wasn't the end of it. The deranged man also shot and killed three more people in attendance including the band's security manager.
Sometimes security makes things worse. In the well-storied and infamous 1969 Rolling Stones/Grateful Dead concert at the Altamont Speedway Free Festival, Hell's Angels were brought in for security. A concertgoer, high on meth, attempted to rush the stage mid-show. When confronted by Hell's Angels members, he pulled out his revolver. Naturally, the Hell's Angels motorcycle gang doesn't take threats lying down. The drug addict's attempt was met with a quick, fatal stab from a member of the gang/security detail. The Grateful Dead chose not to play following the incident.
There are plenty of horrors stories when it comes to concerts and things that have gone wrong in the past. Let all the concerts mentioned above as well as the Pearl Jam and The Who concerts serve as a warning and lesson about safety. But for those who just go for the music, don't let this act as a deterrent. Because no matter what happens, remember music makes the world go round.