The music world has changed drastically in recent years. Musicians don't make the money they used to anymore when signing to a record label. CD's, vinyl, tapes, and other forms of albums are not being bought by music lovers anymore. Everything is digital now, which has made it difficult for musicians to make a profit. Live shows are what drive revenue for these artists, so when it comes to music recording, many smaller artists are turning towards independent recording.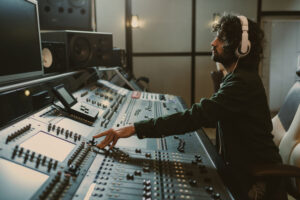 Independent Music Scene
The independent music scene has grown rapidly in the past 20 years. Now, musicians have the ability to record their music on their own time with the proper equipment. Since learning a trade or skill has become accessible online, musicians find it easier to record their own music without having to try and sign with a label.
The Benefits of Recording Your Own Music:
Record on Your Own Time
Eliminate Deadlines
Release Music When You Want
Have Total Control Over the Music Production
You're Your Own Boss
Less Expensive
What Will You Need for an Independent Studio?
You'll need to invest in some high-quality recording equipment and microphones for your studio. Starting out small is beneficial, especially if you have a limited budget. Another important aspect is the sound system that you install in the studio. It's important to have a high-quality sound system installed as well. At Lowrance Sound Company, we have the ability to deliver a state-of-the-art sound system for your music studio wherever you are.
Contact Lowrance Sound Company at 800-852-5418 today or visit us online for more information about our audio system installation services.