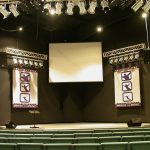 Home theatres used to be the type of room only found in mansions. But over the years, their popularity has increased and so has their affordability. Thanks to technology and the end of the recent recession, more families are putting home theatres into basements and spare bedrooms.
As important as the comfortable seats are, there is one thing that truly makes home theatre an experience that replicates that of a real move theatre – the quality of a theatre style sound system. Assessing the room and its requirements is the first and most important step to designing the perfect home theatre sound system.
When looking at the room you are going to design, take notice of how large the space is. The size of the room as well as the number of seats play an integral part in the type of sound system you will need. Also make sure to pay attention to windows, doors and other openings that might allow sound to travel. You will have to make up for these when installing audio.
If you have audio equipment already that you want to use, make sure it is compatible with any new purchases. For example, ten-year-old speakers could be difficult to match with new audio system that has different port and requirements. Using existing equipment could save money, but it could also sacrifice quality.
Think about the shape of the room and where speakers are going to be added. Whether you think so or not, the shape of a room and its furniture can affect the interior volume. Front speakers shouldn't be blocked by the screen or furniture. Back speakers shouldn't exist too far away or too close to the back row of seating.
Designing your home theatre should be done in collaboration with designing your home theatre sound system. Together, an open room with high ceilings, few windows and moveable furniture can aid an audio system in producing quality, clear sound. Even the best audio equipment on the market can lose its effectiveness if used in a wrong, poorly designed room.